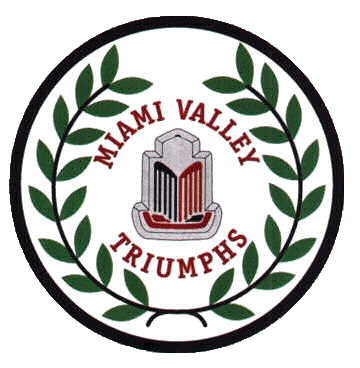 Welcome to the general information area of Miami Valley Triumphs (MVT) where you can find:
​
How to Join MVT -
​
​
How to Pay Annual Dues for current members -
​
How to Access the Members Only Area of the website -
​
​
How to Purchase MVT and Triumph Apparel -
​
​
How to Purchase MVT Regalia -
​
​
​
Join MVT
​
Any person sixteen (16) years of age or older who is interested in and capable of furthering the purpose of MVT is eligible for membership. Ownership of a Triumph is not a prerequisite to membership. MVT shall not discriminate due to race, sex, creed, age, or national origin. We always solicit new members!... to join in the camaraderie, fun, and enjoyment. To access a MVT Membership Application Form, please click one of the two form buttons below. The Paper Membership Form is an Adobe form and can be filled out online and printed. Alternatively, you can just print a blank form and fill in by hand. Mail in with a check to the address on the form. The Online Membership Form is a form that can be filled in online and the initial membership fee paid by PayPal.
MVT Members Only
While the information one this page (and others) is public, (anyone who visits the site can see it) there is information and web pages that are reserved for MVT members only. Any web pages whose name is preceded by an asterisk (e.g. *MEMBERS ONLY) require current membership in MVT and a sign in with user ID and password. If you visit these pages, you will be asked to Log In if a member or Sign Up if you are a MVT member who has not previously signed up. Detailed instructions and examples are in the PDF document below, just click to read.
To access web page containing materials for MVT members only click on the button below.
​
MVT Apparel
We are able to provide a wide range of garments embroidered with images of Triumph cars/Club logos/Car Logos, club names, and personal names. A few examples are shown below. for a Polo shirt embroidered with a name, the car silhouette of a TR3, and club name of Miami Valley Triumphs A hat with with a TR2 badge.
​
​
​
​
​
​
​
​
​
​
​
​
​
​
​
​
​
Click on the button below to go to the apparel page.
​
​
​
​
​
MVT Regalia
​
We have several MVT items to show that your Triumph is part of a great club. Contact Harry Mague if interested and he will bring to the general meeting for purchase: grill badges, cloth patches, stickers.
​
Our current items
MVT Enameled Grill Badge - $30
ONLY 2 LEFT!
​
​
​
​
​
MVT Magnetic Club Emblem - $12
(11" - can be trimmed to circle)
​
​
​
​
​
​
​
​​
​
​
​
​
​
​
​
​
​
​
​
​
​
​
​