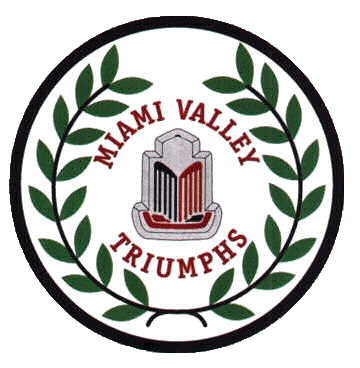 CHUCK & CHRIS WHITE'S GARAGE
1972 TR6
​
CC75665LO
​
Current Caretaker:
Chuck White
​
Just prior to our marriage in 1974, Chris and I purchased a used 1967 Triumph TR4A. It was Signal Red with a black interior and was our only vehicle at the time. We drove it to Stowe, VT, for our honeymoon and all over the back country roads while we were there. On our way home on the Pennsylvania Turnpike, late on a dark and rainy night, Sir Lucas struck. We were without dash lights and windshield wipers. Slowly, we limped along to the next exit where we found a garage that was open with a mechanic on duty. Remember those days when service stations had mechanics? The mechanic was able to fix our problems and we eventually made it home. Sometime in its previous life, the car had apparently been raced at the Watkins Glen racetrack as evidenced by a plaque on the dash.
About a year or so later, I was attempting to jack up the rear of the car and noticed the jack going up but the car wasn't moving. On inspection, I found the jack poking up through the frame! Major rust issues. It was time to move on so we traded it in on a newer 1971 Triumph TR6 (Corvette silvery blue with black interior and a 3rd party fiberglass hardtop) from Byers Triumph in Columbus. At that time (1976?), there were still Triumph dealerships selling new Triumphs.
Soon it became time to start a family and we realized a two-seat sports car wasn't going to be able to hold Chris and I and a car seat for the baby so we reluctantly sold the Triumph and bought a "family" car.
30 years after purchasing our first Triumph, our son had grown up and we were empty-nesters again. Our love for British sports cars had faded but there was still an ember burning in our hearts. I started looking online for another Triumph and after an exhaustive search, found one in Minneapolis, MN, that fit the bill. After many, many email exchanges with the owner and countless pictures, we agreed on a price and I bought it for our 30th wedding anniversary. We rented a trailer and drove to Minneapolis to pick it up. It was advertised as a 1967 Triumph TR4A (Signal Red with black interior), but upon inspection, it was found to actually be an early 1965 Triumph TR4A (CTC61681L). It had been restored in Oklahoma in the 1990s and was in excellent shape. Over the years we owned it, the only major change we made was to add an overdrive but nearly every nut and bolt, front to back, had been touched at one time or another. With my advancing age, it became a struggle to maintain it at the appropriate level it deserved and the hard decision was made to sell it. After 11 years with us, it went to Philadelphia, PA, in 2015 to an attorney, destined to carry his golf clubs on Sunday afternoons.
CTC61681L (Front & Left)
MVT Ohio river tour with 1970 Volvo 1800E
Custom Wood Steering Wheel by Paul Rich
On a lark, a placed a bid on an eBay auction for a 1970 Triumph GT6+ (KC76842L) in June, 2006, and was surprised when I won it. Again, I rented a trailer and drove to Collierville, TN, to pick it up. When I got there, it became apparent that the owner wasn't completely open about its condition so I renegotiated the sale price and brought it home. At the time, I was working with Mark Macy of Macy's Garage and had worked out a deal where I could use his expertise while restoring the GT6+ in his workshop. That never happened and I eventually lost interest in restoring it. In 2019, after sitting dormant on jack stands and under cover in my carport for years, it went to its new home in Roscoe, IL, with TONS of new and used parts I had accumulated.
Being without a Triumph didn't feel right so I started looking for another, but in a good 'driver' condition that wouldn't need any major work. I found a 1972 Triumph TR6 (CC75665LO) in Farmington, NY, and bought it in August, 2019. The previous owner, Bruce Krobusek, had named it 'Mrs Peel' after his love for Diana Rigg's character in the 1960's British television show, "The Avengers". His wife, Susan Krobusek, told me:
"Growing up in northeastern Ohio, near Cleveland, there was a Triumph dealership very near Bruce's home. He told me how he would go up there, press his nose to the window and lust after the TR6 – it was a teenage obsession that never went away. Coincidentally, Diana Rigg's character was also a teenage obsession that never went away, and they were joined together when Bruce bought his TR6. He got "MRS PEEL" vanity plates, and even went so far as to print out a picture of Mrs Peel from the internet, laminated it and placed it on the dashboard. She thus became the patron saint of the TR6."
​
"This car was his pride and joy, and in truth, it meant a great deal to both of us. The year 1995 also happened to be our 10th wedding anniversary. Shortly after Mrs. Peel came home, we were watching TV one evening, and that was when the diamond "anniversary rings" were being promoted - especially for 10th anniversaries. The commercial came on, and Bruce looked at me very apprehensively. He said, "Do I have to give you one of those for our 10th??" (Having just bought the car, he was reasonably concerned about the cost.) I said no, that what I really wanted for a 10th anniversary gift was a trip to Vermont in the fall. Bruce fell in line with that proposal immediately, and it was without question one of the best and happiest vacations we ever took. We drove Mrs. Peel up to Killington, VT the first week in October, and had the good fortune to hit a spectacular foliage season! That was the first of several trips, although once we got the Stag for me, the TR6 was more of a local traveler due to comfort concerns. Mrs. Peel nearly always went on car club runs, and Bruce would take her on errands. Sometimes he'd just jump in her and roar off to satisfy his need for speed, and have a thoroughly good time doing it.
​
One of his personal favorite times with Mrs. Peel was a "Lunch and Lap" day at Watkins Glen. Bruce did get a tad carried away on that occasion (I was filming it in the passenger seat, and freaked out slightly on a couple of overcooked curves), but he had a fantastic time.
​
Whenever Bruce had been out for a drive, I could always hear him returning before I saw him. As I said, Mrs. Peel was his pride and joy, and I know that somewhere he's smiling, because it will continue to be on the road, driven by someone who will treasure and enjoy it as much as he did."
​
DriveYourTriumphDay2020 (small)