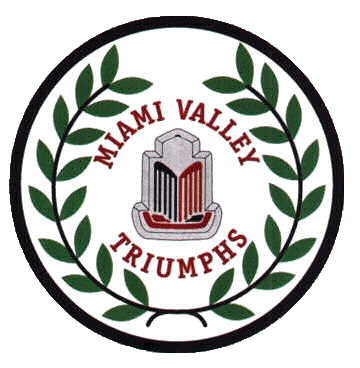 Triumph & Club Personalized Apparel
Once again we are able to provide a wide range of garments embroidered with images of Triumph cars, Club logos, Car Logos, club names, and personal names to your specifications. Our provider is Boomerang Embroidery in Dayton, OH owned and operated by Ms. Lori Andrews.
​
Since there is a lot of flexibility in creating your garment, it is a good idea to go step by step through the various options. The first step would be to decide on the garment you want. There is an online catalog with a large selection of clothing and apparel that Boomerang Embroidery deals with at a discount - www.sanmar.com While this can be overwhelming it does allow a choice of a specific brand or type of apparel. Optionally you can purchase and supply your own garment.
Next step would be to decide on what car silhouette (or car logo or club logo) and printing you want on the garment. The standard default is on the upper left side of shirt with the top line your name, middle line is your car silhouette and bottom line is club affiliation. The thumbnails below show the available designs we have. (Note: names embroidered under examples are to identify silhouette type only and do not appear on garments)
​
To identify and order a garment, please scroll down or click here to go to detailed ordering instructions.
Available Car Silhouettes and Logos

(click on picture to see full size details)
Available car silhouettes
Detailed Selection and Ordering Instructions
Garment Selection
​
The normal process is that the requester use the Sanmar Catalog www.sanmar.com to find the garment and color they want and supply Boomerang with the garment code (from the catalog) and the color and size desired. Boomerang Embroidery is located very close to a Sanmar Supply House and Ms. Andrews can buy garments at a discount of about 20%, higher if the garment is expensive.
​
Note: From the club's past experience, the most bought garments were –
Tee Shirts, short sleeve and long sleeve, with and without pocket

Polo shirts, Pique, Short sleeve/long sleeve, w/wo pocket

Sweat shirts, w/wo hood, zipper and non-zipper
Occasional purchases were
Denim shirts, long and short sleeve

Warm-up Jacket, zipper

Baseball cap or 360 degree brimmed hat
As an option for special cases, the garment can be supplied by the requester. In this case the garment can be shipped directly to Boomerang Embroidery with a copy of all ordering information. Discussion with Ms. Andrews prior to shipping is advised.
​
Boomerang Embroidery
3008 Birdwood Road, Dayton, Ohio, 45440
(937) 367–8893
Business hours: 9am – 5pm, M-F.
Ms. Lori Andrews
​
Example: The polo of choice by Boomerang Embroidery is Sanmar item K500, a Port Authority® Silk Touch™ Polo available in 38 or so colors and sizes from XS to 6XL. For ordering all you need as an example is: Sanmar code K500, color white, size L
​
Embroidering Selection
While there is flexibility in what embroidery and where it is placed, the usual choice is the car silhouette desired and car color with your name and the club affiliation.
Note: that the standard is: location - upper left side of shirt (above pocket if garment has one) and top line is name, middle line is car silhouette and bottom line is club affiliation (which defaults to Miami Valley Triumphs as standard).
​
You can choose any body color you want for the car silhouette but the details of these examples are what we have. If you chose TR3 you get a luggage rack and wind wings. This is a limitation of what we provide in terms of choice. You have some flexibility as in the case of the TR8 the silhouette is essentially the same as the TR7. The names embroidered under examples are the identifier code for that car silhouette. They do not appear on garments
​
Other things can be added to garments such as Club Logo (patch), or car hood badge and you can specify where to locate.
Cars will be a standard size, about 3 inches long

Club patches will also be a standard diameter.

TR2 – TR4 shields will be about 3 inches wide at their bottom, They can be done slightly smaller in size.

Club affiliation can only be done as block letters.

Lettering for name can be done as block letters (about a quarter of an inch high) or script which will be about a half inch high. It can be smaller, but Boomerang will do a mock-up to show you before doing the stitching.
Current Pricing
Car Silhouettes - $9.00
MVT Club Patch - $13.00
Triumph World Globe - $9.00
TR2 – TR4 Shield - $11.00
Texas Club Patch - $13.00
Name - $3.00
Club Name - $4.00
Polo Shirt, Sanmar, K500 - $12.00 (shown as an example)
Example: For embroidery on the garment example above let's use the example of selecting a TR3 car silhouette. Click on the silhouette of the TR3 in the photo gallery of examples above. If OK use that silhouette and note the silhouette code below the example. In this case it is also TR3. For ordering then all you need is to supply as an example is - car silhouette code-TR3 and color-dark green, person's name-John, script, club name- Miami Valley Triumphs in block, Lettering color - black. Based on current pricing this would be about $28 not including tax but including shirt for this example.
​
Special Requests: We have tried to make ordering straight forward by having the most common request as standard (name, car silhouette, club name). However there is flexibility in what you want embroidered and where. Indicate in the special requests area on the form and Ms. Andrews will discuss with you to make sure the garment is done to your wishes. As an example,one simple request might be to delete the club name so there is only a car silhouette and name. As you can imagine there are a number of possibilities.
Ordering
​
To order, click on the PDF button below. This is an Adobe form that can be downloaded to your computer or printed and filled out by hand. If you do not see the download arrow or the printer symbol, move your cursor to the upper right part of the screen and they will appear. If you download the form it can be opened and filled in on your computer. Once done, save and then attach the filled in PDF to an email to lori@boomerangembroidery.com If you print out the form, fill it out and mail to the address for Boomerang Embroidery above (or scan and email).
​
​
​
​
​
​
​
​
When Boomerang Embroidery receives your order, Ms. Andrews will contact you with a price and discuss any requests or questions with you. Payment can be made with a credit card at this time or you can wait for an invoice and pay with a credit card via PayPal. When the garment is complete, Stan Seto will pick up at Boomerang Embroidery and deliver to the monthly meeting (to save shipping costs). In the event you can not make it to the meeting, you can request another member to pick up and deliver to you.
​
FAQs
​
I have read all of this and still am not sure what to do. Contact Lori Andrews at Boomerang Embroidery (contact info. above) for questions about garments, embroidery.
​
I have a friend who is not a member of MVT but would like a garment. While we wish everyone was a member of MVT, we recognize there may be others interested. We do plan to expand the offer to others (like TTR) if possible. Contact Stan Seto for information.
​
I have my own garment and want it embroidered. Can I do this? Sure, as explained above you can send your own garment to Boomerang Embroidery with an order form. Probably a good idea to contact Ms. Andrews at Boomerang first just to double check.
​
I ordered a garment and can not make it to a meeting for some time or arrange to get from another member. Can you ship it to me? We don't want to get in the shipping business but in special cases can ship to you at your expense. Contact Stan Seto for information.
​
​