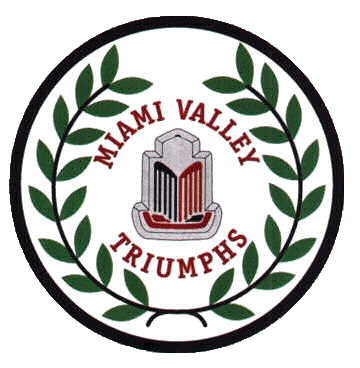 Miami Valley Triumphs Club Links Page

Provided for informational purposes only.
Inclusion of any individual, organization or company should not be construed as an endorsement
by the Miami Valley Triumphs Club or any member thereof.
LOCAL INTEREST
​
British Transportation Museum....www.britishcarmuseum.org The British Transportation Museum is an educational institution in Dayton, OH established to collect, preserve, and interpret through exhibits the history of British built transportation vehicles utilized in the United States.
Dayton British Car Day .... www.britishcardaydayton.com Site for the Midwest's Best British Car and Motorcycle show put on with our partner MG Car Club Southwestern Ohio Centre . Photos of class winners from past events, entry forms, and other information.
​
LOCAL TRIUMPH AND BRITISH CLUBS
​
Triumph
Buckeye Triumphs Club (Columbus, OH) http://www.Buckeye Triumphs.org/
North Coast Triumph Association (Cleveland, OH) http://www.nctawebsite.com/
Indiana Triumph Cars (Indianapolis, IN), http://www.indianatriumphcars.com/
British
The British Car Club of Greater Cincinnati http://bccgc.com
Indianapolis British Car Union http://www.ibcu.org/
S.I.R. Brit (Southern Indiana Region British Car Club) www.sirbrit.com

CLUBS & ORGANIZATIONS U. S. A. BASED
​
The Triumph Register of America....www.triumphregister.com Formed to preserve the Marque TR2-3-3A-3B-4-4A
The Vintage Triumph Register....http://www.vtr.org
The International Triumph Spitfire Database http://spitlist.info/
Triumph 6-Pack....http://www.6-pack.org
INTERNATIONAL TRIUMPH CLUBS & WEB BASED SITES -- TRIUMPH RELATED OF COURSE!

The Triumph Experience..http://www.triumphexp.com/ Your online Triumph Club.
Triumph TR7.com and the Forum....(Great) www.triumphtr7.com &the Forum!
THE TRIUMPH 2000 MKII HOME PAGE http://homepage.ntlworld.com/jasmine.allam/ based in the U. K.
Triumph Wedge Owners Association (TWOA) www.triumphwedgeowners.org
The online Journal of the Modified British Sports Car Community! British V8.org
​
COMMERCIAL ORGANIZATIONS - SERVICE, RESTORATION, PARTS
​
Restoration and Service
Macy's Garage - From minor repairs to full concours restoration, and everything in-between! TR2 to TR6 specialists. www.macysgarage.com
​
Parts
The Roadster Factory - The Roadster Factory stocks a full range of components for Triumph and MG sports cars. Famous for high–quality reproduction of manufactured parts, side curtain rebuilding. www.the-roadster-factory.com
Moss Motors - The original and still major British parts vendor. www.mossmotors.com
Victoria British LTD. - www.victoriabritish.com
Little British Car Company - www.lbcarco.com
SpitBits - A small but good online parts source, and good prices, too: www.spitbits.com
British Parts Northwest - www.bpnorthwest.com
TS Imported Automotive - British Car and Parts Sales www.tsimportedautomotive.com
Brit Bits - (Portsmouth, NH) www.britbits.com
The Wedge Shop - Triumph TR7 & TR8 Parts, Advice & Forum! www.thewedgeshop.com
D&D Fabrications, Inc.- Rover V/8 Specialists www.aluminumv8.com
Triple-C Motor Accessories - Regalia and such for all British cars. www.triple-c.com
Rimmer Brothers Triumph Spares - in England www.rimmerbros.co.uk
Parts, Used
Triumphs Only - Largest Collections of Rust Free Sheet metal, Body Tubs, Used Parts, New Old Stock parts No Longer Supplied!! www.triumphsonly.com
Bargain British - Used parts in stock for your Jaguar, MG, Triumph, Austin, Rover, or other British car. www.bargainbritish.com
​
​
​
​
​
​
​