STAYING ON THE BACK ROADS SINCE 1978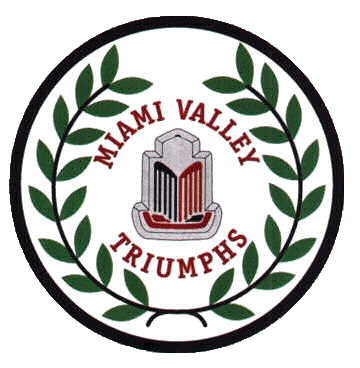 A Classic Car Club for the preservation and enjoyment of all Triumph Cars
A Classic Car Club for the preservation and enjoyment of all Triumph Cars
MVT Events and COVID-19
5/01/2021 - Current Status
As of this update, COVID-19 cases are continuing to fall but still present in the Daytona and Cincinnati. Most of our members have been vaccinated and the general population is now eligible. We have started to resume drives and tech sessions outside as the weather warms up. Activities inside buildings in close proximity continue to be higher risk but we are looking at opportunities to meet in person again.
Dinner w/TTR FOG (and Stan) Group
5/07/2021 TBD
The Texas TTR FOG group which Stan is a member will be stopping in Dayton on Friday May 7th on their way to the Finger Lakes. A dinner with MVT members who would like to attend is planned. Location and time to be announced.
Project Yellowjacket
5/7 and 5/8/2021 10:00AM
Just a reminder, that Project Yellowjacket is a go for this weekend! Pete Stroble has agreed to open up the British Transportation Museum tomorrow at 10 AM to allow us some extra time to wrench on Yellowjacket. If you can make it, awesome! If not, do not fear! We will have our regular Tech Session at the Museum on Saturday 8 May at 10 AM. If you can make that, its at 321 Hopeland Street in Dayton. I'm thinking this is the big push to get it moving under her own power! The rear axle will go back in, as well as bleeding of the brake system! With some luck, we will also get the headlamp assemblies re-installed, and functional.
I hope to see you there
Ohio Heritage Sites Tour
5/08/2021 - 8:30 AM
This will be a day trip to visit the Ohio Heritage sites in the Chillicothe area. We will meet at the
Starbucks at I-71 and US 35 - plan to leave by 8:30. First stop will be The Old Home Place off 35 on the other side of Washington Court House. Chillicothe is home to the Hopewell Culture National Historic Park as well as Adena State Memorial. Back towards Bainbridge is Seip Mound and further back towards Hillsboro is Fort Hill Earthworks. Possible stop at JR's Supply and maybe a quaint place in Greenfield to eat? We shall see.
Bellefontaine Run/Tour
5/22/2021 8:30 AM
We will meet at Studebaker's Country Restaurant, 2800 Troy Rd., Springfield 45504 at 8:30 for breakfast (former Bill Knapps, up the hill above the Upper Valley Mall) If you need fuel there is a Speedway at 1103 Upper Valley Pike, just south of the mall. We will be heading north through Champaign and Logan Counties. A couple of stops for supplies that you might want, so bring a cooler. Then we will head to Union County for an early supper. Hope you can join us!
British Biscuits and Tea
6/??/2021 - 10:00 AM
British Biscuits and Tea is a British only cars and coffee. They will be meeting at the parking lot just east of Archers (where we had MVT meetings) in Kettering 10am to Noon on Saturday. Bring your own coffee and car.

Monthly membership Meetings are held the First Wednesday of Each Month at 7:30 p.m., unless otherwise noted.
Monthly Meeting May - Video
5/05/2021 - 7:30 PM
​Because of COVID-19 restrictions, the General Meeting will be be held as a videoconference using Google Meet. A User Guide on how to use videoconferencing can be found our videoconferencing page by clicking here. Connection details will be sent to all members by email prior to the meeting.
​