STAYING ON THE BACK ROADS SINCE 1978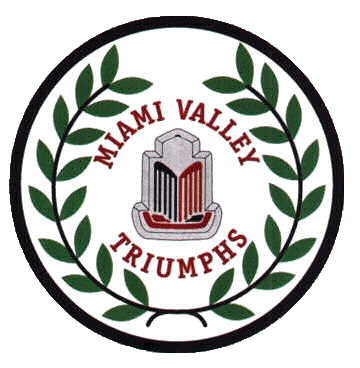 A Classic Car Club for the preservation and enjoyment of all Triumph Cars
As of this update, COVID-19 cases are still high levels in the Daytona and Cincinnati areas as well elsewhere in Ohio, Kentucky, and Indiana While outdoor activities like short drives in our cars are a socially acceptable way of getting together as a group and enjoy our cars and each other, the increase in cases suggest masks outside when in close contact. Activities inside buildings are still high risk.
For the foreseeable future, we will continue to have videoconference meetings for our General Meeting and all other group meetings. Details will be sent via email.
The drive will include the four major dams around Dayton. The route will start at Huffman Dam - meet at the parking lot off OH 4 by 10:30, we leave at 10:45. This is the Huffman Metropark Overlook. From there we will proceed to Wot-a Dog in New Carlisle for lunch, then on to Taylorsville, Englewood and ending at Germantown dam. We could not get to a winery but have plans for a small farm stand, maybe a bulk food/ snack place and finally the Creamery in G-town for ice cream, pastries and coffee (not 100% sure on the outside seating there so that may change). Figure it to wrap up about 4:00. We can promise at least a few curvey, less traveled roads!
British Biscuits and Tea is in the parking lot east of Archers where MVT used to have its meetings before COVID-19. (2030 E Dorothy Ln, Kettering, OH 45420) Bring your own British car and coffee/tea. Remember to observe COVID-19 recommendations (social distancing, masks, etc).
The British Transportation Museum Tech Sessions on Project Yellow Jacket at the British Transportation Museum (321 Hopeland Street, Dayton, Ohio 45417) have resumed with limitations. Check with Jackson if you have questions.

We will meet at the BellHOP Café in Bellbrook at 10am. The exact route of the tour, and the stops we will make, are TBD due to COVID, but at this point we expect most of the markets to be open. I have a sneaky feeling we will end up at Caesar's Creek vineyards
Please reload
Monthly membership Meetings are held the First Wednesday of Each Month at 7:30 p.m., unless otherwise noted.
September Issue of The Marque is now available for your enjoyment.
The Marque is online thanks to our hard working Editor, Bruce Clough, and all those who submitted articles. Lots of reading material to keep you entertained while at home. Scroll down for the Marque or click here.
September Issue of the TTR Bluebonnet now available
Click here for TTR's September, 2020, issue of the Bluebonnet, direct from the presses of editor John Hanten. We hope you enjoy it. Stay cool and be safe.
Due to COVID-19 we will be having Meetings by videoconference. For information and a Guide on How To Videoconference click here
Please reload
THE MARQUE
"The Marque" is the official publication of the Miami Valley Triumphs Car Club, P. O. Box 144, Bellbrook, OH 45305. Views stated in the "Marque" are not necessarily those of the officers or members of the club. Technical data is provided for information only and no liability is assumed for suitability, applicability, or safety.
Click anywhere on image below for current issue